Performing a content gap analysis to optimize website content strategically is essential if you want to increase authority and visibility in the digital space. A content gap analysis also helps identify potential ideas for a strong content strategy that provides value and insight to site visitors.
I know firsthand how essential a content gap analysis is in ensuring viability in today's highly competitive digital space. It does not matter what industry you are in or who your ideal site visitors are.
In this article, we'll go through 7 actional steps to getting an insightful content gap analysis and how each step contributes towards creating a better, more engaging content strategy for your site. After, you'll have a comprehensive list to follow to make sure your content gap analysis shows insight and ideas for your next batch of digital content.
Let's get started.
7 Steps In Performing A Content Gap Analysis
Following actional steps leads to effective content creation that enables websites, regardless of industry, to remain relevant regarding how Google algorithms rank websites. The actional steps listed below make it easier to uncover potential ideas for a solid digital content strategy.
All in all, with these steps with the right SEO (search engine optimization) content marketing, your website can gain the visibility and authority it needs to stay ahead of the competition.
1. Research And Analyze Competitors
The first step in performing an in-depth content gap analysis is to research and analyze what type of content competitors are releasing. Website owners or managers can do this by subscribing to your top competitor newsletters, conducting Google searches, and utilizing social media monitoring tools.
Once you understand what content competitors are releasing, the next step is to analyze the content. When analyzing competitor content, it is essential to take note of the topics covered, the frequency of release, and the overall engagement levels. It is also beneficial to look into competitor keywords.
When performing a content gap analysis, consider the following metrics:
Traffic: How much traffic is your content getting? If you do not see your desired results, it's time to analyze your content strategy.
Engagement: How much engagement is your content receiving? If people are not interacting with your content, it's time to take a step back and consider how you can make your content more engaging.
Shares: How often is your content shared? If your content is not shared, it's time to consider how you can make it more shareable.
Links: How many links are pointing back to your content? It would be best if you had high-quality links pointing back to your website to rank higher in Google.
These metrics glean valuable insights that enable you to understand where your content strategy may fall short. Additionally, understanding this provides direction in terms of what improvement to make.
Check Your Backlinks
Get an Instant Insight Into Who Links to Your Site
You can organize product information in a central source based on targeted topics and keywords your competitors use to make things easier. In doing so, you market your offer while covering frequented topics that users search for on SERPs (search engine results page).
Moreover, taking the time to look at your competitors' social media accounts can give you a good idea of the content they are pushing out. More specifically, you can look at the type of content they share, the frequency of posts, and the level of engagement. Doing so will help give you an idea of what works well for them and what you can do differently.
2. Perform Content And Keyword Audit
The second step is to conduct a content and keyword audit based on what your competitors rank for. The audit will help to understand what keywords and topics your competitors are ranking for that you are not. There are a few different ways website owners or managers can do this:
Google Search Console: Go to "Search Traffic" and "Search Analytics." You can compare the queries your site ranks for to those of your competitors.
Google Keyword Planner: This tool will show you how difficult it will be to rank for specific keywords and provide related keywords that you may want to consider targeting.
Competitor Analysis Tools: Several competitor analysis tools on the market will show you what keywords your competitors are ranking for. Some options include SEMRush, Ahrefs, and Google Analytics.
A content audit comes in handy during a keyword gap analysis. It can help identify which pieces of content are not performing well and need to be rewritten or updated based on current keyword trends.
Performing a content and keyword gap analysis also provides content ideas into the type of topics you can start to release. In turn, your website will see higher organic traffic and rank for keywords you were not previously ranking for, which will help increase traffic and visibility.
In performing a website audit, keep on-page and off-page SEO in mind. For example, Scott's Cheap Flights offers affordable flight tickets and targets its website visitors by using keywords like "cheapest cities in Europe" and "find cheap flights." This is an example of on-page SEO.
Similarly, their website leverages link-building services and includes backlinks to related websites to increase their domain authority on SERPs, making it easier for them to rank higher. This is called off-page SEO. Successful websites need an outstanding balance of both to ensure they become top contenders fighting for the first page on the results page.
3. Map Content Based On The Buyer's Journey
After completing competitor research, the next step is to analyze your current website content about what your competitors rank for. Competitor research will help you identify what topics you are already covering and where gaps may exist. Once you've identified the topics to cover, map each piece of existing content to the buyer's journey and address potential customers' pain points.
The buyer's journey is the process consumers go through when purchasing. There are generally three stages to the buyer's journey:
Awareness Stage: In this stage, buyers are just becoming aware that they have a problem or need
Consideration Stage: In this stage, buyers are considering their options and researching potential solutions
Decision Stage: In this stage, buyers are ready to make a purchase and are looking for the best option
By mapping your content to the buyer's journey, you will better understand gaps in your digital marketing strategies and understand what type of content you should create to move buyers through the journey. Additionally, this will help ensure that your website has a mix of content to appeal to varying personas and buyers at all stages of the journey.
Mapping out the buyer journey in your content gap analysis makes it easier to build a high-conversion pipeline. For example, an online shop selling professional dress forms must target the customer journey from the angle of fashion designers, boutique owners, and clothing store decision-makers if it wants to make a sale.
Targeting store inventory personnel or seasonal hires won't impact sales compared to catering content mentioned previously. On the same note, an online site selling kids' KN95 masks does well to target the parents in content, not the kids, as it is the parents who will purchase the product.
Even if the intended use is for kids, the content should remember the purchases, not the user. Mapping content in this manner creates a more effective content strategy that fills gaps while also increasing sales potential for the business.
4. Consolidate, Organize, And Prune Content
Once you have analyzed and mapped your current content, the next step is identifying topics with high search volume and low competition. Targeting these topics with your content strategy is more likely to result in increased traffic and visibility. Identifying high-potential keywords and topics consolidates, organizes, and prunes your existing content.
Consolidating content refers to listing all the posts, web pages, landing pages, and social media releases that connect to your website. You'll have a birds-eye view of redundant, overused, or duplicate content. Sometimes, these may be unnecessary clutter that hurts your SERP rank rather than helps.
Check Your Backlinks
Get an Instant Insight Into Who Links to Your Site
Organizing content refers to placing each piece of content under a specific topic, keyword, or buyer journey stage. It's up to you to organize content so long as it effectively helps you fill in content gaps. Ideally, organizing content provides insights into which topics are overused and which ones need more attention.
Pruning content refers to updating outdated content, removing duplicates, and repurposing low-performing content. Once you understand your current content, you can make better decisions about what needs to be updated or removed.
To make things easier, you can use the content bucket method in organizing existing content. Content buckets determine where to focus your strategy based on lacking types of content. Should you have an ample number of blog posts, it's ideal for balancing those blogs with infographics or video content.
Such a strategy caters to a more diverse audience, meaning you won't limit your potential visitors or customers to those who prefer blogs over visual posts. Having this balance also enhances a website's overall SEO rankings.
Taking all three together, you'll have concise and relevant content that is first-page results-worthy and full of target keywords that attract high-potential leads to your site. This step may be slightly time-consuming.
However, coming up with a content strategy that appeals to your target website visitors and search engine algorithms go a long way in eliminating the content gap that puts you below competitors. With that, working with a professional content strategist can boost your potential to outrank the competition.
5. Create Or Revise The Content Strategy
After completing a content audit and identifying potential topics, it's time to create or revise your content strategy. The strategy will help ensure that all your content aligns with your business goals and that there are no gaps in coverage about competitors and user search intent.
You can also create new content to replace underperforming pieces to enhance online rankings. Your new content strategy should precisely reflect what your target website visitors want.
Take the example of Aura, an Amazon repricer and analytics tool. Their landing page content aligns with what Amazon sellers require and solves the problem they face. The content leaves no questions unanswered but remains concise and to the point, without excess information that would confuse an audience.
With that, keep in mind these elements when creating or revising your content strategy:
Objectives: What are your business goals? How does content fit into achieving these goals?
Topics and keywords: Which topics and keywords will you cover? Which ones have the most potential for driving traffic and engagement?
Buyer Journey Stages: What type of content do you need for each stage of the buyer journey?
Channels: Where will you publish your content? (e.g., website, blog, social media)
Tone and Voice: How do you want your brand to be perceived? What style and voice will you use across all channels?
Keeping these elements in mind enables you to incorporate relevant and engaging pieces of content that appeal to your target audience and help you achieve your business goals.
6. Publish Content Consistently
After you've created or revised your content strategy, it's time to start publishing content. To make things easier when creating content, using content creation software can help streamline the process. Additionally, there are other helpful SEO tools like free backlink checkers, that can enhance your website's SEO optimization process.
With all your content ready, it's now time to post. But before you hit "publish" on that first piece, keep in mind these tips:
Quality over quantity: It's better to publish fewer pieces of high-quality content than to publish a ton of low-quality content.
Consistency is key: Try to stick to a regular publishing schedule so your audience knows when to expect new content from you.
Promote, promote, promote!: Don't forget to promote your content across all your channels. Use social media, email marketing, and even paid ads to get your content in front of as many people as possible.
It's a good idea to have a content checklist to refer to before final publishing. Taking that extra moment to double-check everything goes a long way in advancing your website's ranking.
When publishing content, it's best to create a consistent schedule that your audience can easily follow. This way, they know when to expect new content from you and are more likely to keep coming back for more.
Check Your Backlinks
Get an Instant Insight Into Who Links to Your Site
If you work with a team of content creators, using team collaboration messengers and task management apps can make it easier to coordinate content creation and posting to ensure it meets the strategy you have in place.
Taking the time to coordinate content creation and posting ensures you post during relevant times that bring in the most engagement for your website based on the content type and the target audience.
7. Perform Scheduled Content Gap Analysis
After you've published your content, it's important to measure and analyze the results. Monitoring your results and adjusting your strategy to find gaps makes your content marketing strategy highly competitive. In turn, you'll surpass competitor websites and reel in site visitors that bring in sales and more leads.
Also, keep track of your traffic and engagement metrics to see how well each piece of content is performing. You can then decide what needs to be changed or improved based on your findings.
Since the digital scene is constantly changing, it's essential to schedule content gap analysis regularly. You can opt to perform the gap analysis on a monthly, bi-monthly, or quarterly basis depending on your specific goals.
This way, you can ensure that your content strategy is always up-to-date and relevant to your audience. Additionally, performing a content gap analysis regularly ensures your website stays ahead of the completion and drives traffic and engagement.
By following these steps, you can create an effective content strategy in no time that will help you achieve your business goals. And with a bit of practice, performing a content gap analysis will become second nature, just like unscrambling anagrams.
Conclusion
Taking actionable steps to get an insightful content gap analysis does more for your website than making it look nice. It also increases its earning potential and ability to stay ahead of competitors.
While a content gap analysis may be time-consuming, once the first analysis is out the gate, succeeding efforts to keep your site updated do not take as long. It's a necessary task that ultimately improves your bottom line and the likelihood of reaching the first pages of SERPs.
If you're ready to start creating content that sells, visit us at Linkody for access to the best backlink tracking tools that help your website rank higher.
---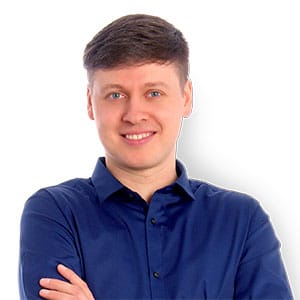 Burkhard Berger is the founder of Novum™. Burkhard is on a journey to reach $100,000 per month and he is sharing everything he learned in his income reports on Novum™ so you can pick up on his mistakes and wins.